Alla Renée Bozarth
Dr. Alla Renée Bozarth is an award-winning poet and author of thirty-four titles of prose books, poetry collections and audiotapes, including Stars in Your Bones, Life is Goodbye/Life is Hello, A Journey Through Grief, and Book of Bliss.
She is one of the Philadelphia Eleven, history-making women who became the first female Episcopal priests in 1974. Dr. Bozarth holds a doctorate in performing arts from Northwestern University and is a certified Gestalt therapist.
She practices soul care of herself and soul-mending and soul-tending of others at Wisdom House near Mt. Hood in western Oregon.
---
Susan Lind-Kanne
Susan's unique, emotional artistry lovingly expresses and presents Alla's inspirational poetry. Publishing since the mid-Eighties, she has worked with local, high-profile designers and as a production artist for local advertising agencies. Susan is also an IT recruiter enjoying placing talented computer professionals.
A Minnesota native, Susan moved to Oregon 37 years ago. In 1997, she moved across the road from Dr. Bozarth and discovered they share many meaningful connections. Rapidly, their friendship grew into a sisterhood.
Susan Lives in Sandy, Oregon, with her husband, two dogs and three cats. She enjoys cooking, baking, gardening, reading, music, and spending time with friends.
---

Carley Huxley


     Carley Huxley is a junior in high school who has the longing and drive to change the world. Her empathy, insight and compassion for all of Earth's creatures draw you into her art, poetry and prose.
     Carley lives in Gresham, Oregon, and has plans to go to college to study history and women's struggles for recognition and equality. She is working toward becoming a history teacher, an artist and a poet.
     Bear Blessings Soul Cards embraces Carley and her talents, and we're very excited to provide her with a venue to share her work. Check back often to see what Carley will do.
---
Dr. Bozarth's Blogs:



 

Alla Renée Bozarth Words and Images

 

Grief and Grieving Well Resources by Alla Renée Bozarth



All in-print titles shown can be purchased from www.BearBlessings.com. If you do not see the title you want, contact Susan Lind-Kanne on the Bear Blessings' "Contact page" and she will see to it that your request is fulfilled. Books ordered through Bear Blessings will come with an author's inscription on request. 
Vietnam Docupoem:
---
 

Unpublished Books-in-progress by Dr. Bozarth:



Winterfire-The Rebirth of Love

Love's Alchemy

My Passion for Art

Purgatory Papers

Postcards from Paradise

Falling in Love with Fire

Falling in Love with Light

Kissed by Lightening and Left for Dead

Learning to Dance in Limbo

Quartet

My Blessed Misfortunes

Diamonds in a Stony Field

The Frequencies of Sound

The Frequency of Light



 

Out of Print Books by Dr. Bozarth:

Gynergy

Stars in Your Bones: Emerging Signposts on Our Spiritual Journey

Six Days in St. Petersburg: A Chronicle of Return 

In the Name of the Bee & the Bear & the Butterfly 
---
Videos about the Philadelphia Eleven:
 

"Remembering the Philadelphia Eleven" with Bishop Greg Rickel, the Rev. Sarah Monroe and the Rev. Canon Janet Campbell of the Diocese of Olympia (Western Washington). https://www.youtube.com/watch?v=mw1BWOC4qQM#t=109.909855

 

"Eucharist Celebrating Women's Ordination to the Priesthood" (Highlights), Episcopal Divinity School, Fortieth Anniversary Year of the Philadelphia Ordinations, 2014. https://www.youtube.com/watch?v=fU_AKaYF-xY
---
BOOK ABOUT THE PHILADELPHIA ELEVEN:
The Story of the Philadelphia Eleven
By Darlene O'Dell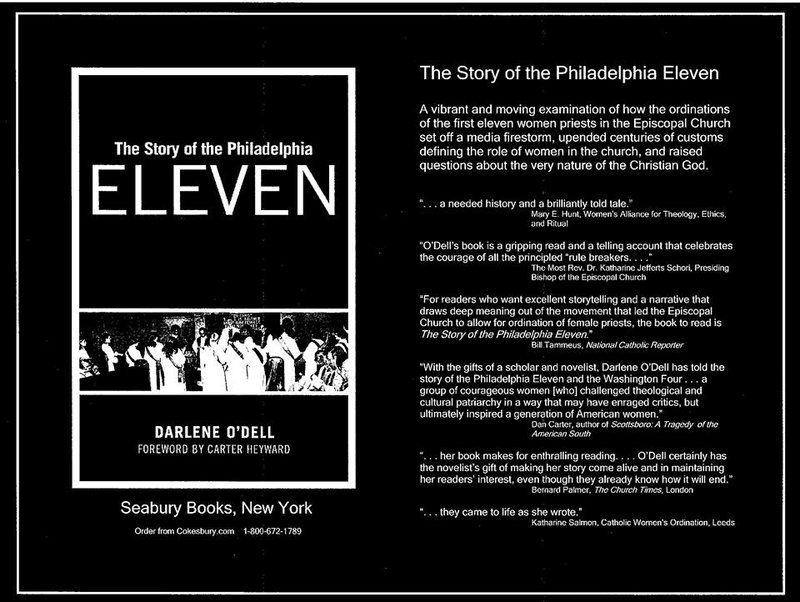 "Darlene O'Dell is the biographer of the Philadelphia Eleven. The Story of the Philadelphia Eleven is beautifully written by a professional writer who is much beloved by those of us blessed to have been interviewed by her. Darlene is a scholar, a teacher, a gifted and disciplined author, and a gentle, courageous person, careful to tell the truth without flinching, also generous in telling about the human ambience around the facts of history with warmth, humor and grace, ever-sensitive and discreet, without disservice to revelation. I bless her daily for being true to the many facets of her vocation. May star showers of inspiration continue to bless you in your life and in your holy work, Darlene O'Dell!"  ~Alla Renée Bozarth ~
https://www.ncronline.org/books/2014/11/book-tells-story-11-prophetic-women